The "Defence & Aerospace Round Table : 'The Road Ahead for Indo-Czech Defence & Aerospace Partnership' event held on Apr 26, 2021 was an initiative of the Southern India Chamber of Commerce & Industry (SICCI), the Honorary Consulate of the Czech Republic in Chennai and the Embassy of the Czech Republic in New Delhi.
H.E. Mr. Milan Hovorka, Ambassador of the Czech Republic in India were the Chief Guest, Dr. K. P. Karthikeyan, IAS, Executive Director, TIDCO, Government of Tamil Nadu, Col. KV. Kuber, Director - Aerospace & Defence, E&Y India and Mr. Iqbaljeet Singh Bains, Investment Specialist, Invest India were the Key Speakers. Also the Panel Discussion had Mr. V. Vijayakumar, Advisor - India Entry & International Affairs, SAS Partners, Mr. Jakub Jaros, Economic & Commercial Counsellor, Czech Embassy, New Delhi, Mr. Petr Motyl, Group Director for Sales & Strategy, PBS Group, Czech Republic, Wg Cdr P. Madhusoodhanan (Retd.), Aerospace & Defence Expert Consultant, TIDCO, GoTN and Mr. N. Ramachandran, Managing Director, Mel Systems and Services Limited.
This webinar was held towards developing the Economic cooperation and investment opportunities between the Czech Republic and Tamil Nadu in the Aerospace & Defence Sector. Mr. Ar Rm Arun, Honorary Consul of the Czech Republic in Chennai & President-SICCI, during his address warmly welcomed the august presence of all the dignitaries, representatives from the Czech & Indian Companies and all participants who had joined virtually for the event.
During Mr. Arun's Welcome Address, he had started with highlighting few areas regarding the ongoing pandemic. Requested that those who could take the vaccine to please do so with their Doctor's advice. To strictly follow required precautions, wearing masks effectively, maintain physical distance and not being in crowded places. He also urged to be supportive of all front-line workers in any way we could do. Also mentioned that each of us play important role in arresting the spread. We have to do whatever we can to bring about the much needed normalcy.
Mr. Arun had mentioned few words about SICCI which also includes its support in organizing few events in association with the Czech Embassy, New Delhi. SICCI was extremely successful in organizing two A&D programs with the Indian Navy & IAF. He also addressed about the presence of the Honorary Consulate of the Czech Republic in Chennai, about the Czech Republic and the Indo-Czech Friendship.
While speaking about the India's Defence Partnership History with Europe, Mr. Arun conveyed that the major chunk of India's relationship with European Countries was the purchase of defence equipment. During the defence procurement in 1960s, UK was the initial primary source of defence equipment, before India chose the Soviet Union. Some defence items were also brought from France.
The Defence procurement broadened by the early 1980s, when India began to acquire arms from West European countries, including Mirage aircrafts from France, submarines from Germany, and the Anglo-French attack aircraft, SEPECAT Jaguar.
While this trade was mostly with Western Europe, Central & Eastern European countries such as Poland & the Czech Republic also got a share in India's defence market. This was primarily as a legacy of India's defence trade with the Soviet Union. The Army's usage of the Tatra vehicles (in a JV with BEML Ltd.) is a notable example while other Czech companies such as OMNIPOL a. s. and Gearspect Group a.s also forayed into India. Traditionally, the Czech Republic was known for producing heavy equipment, radar technologies and jet trainer aircrafts.
The Indo Czech bilateral Defence Cooperation gained new momentum with the signing of MoU on Bilateral Defence Cooperation in Oct 2003. Accordingly, the Joint Defence Committee was setup and its 6th meeting was held in New Delhi on Feb 3, 2020. Czech defence companies have been regularly supplying military equipment to the Indian armed forces.
While talking about the Tamil Nadu-Czechia forging ahead, Mr. Arun mentioned that Tamil Nadu can be a prime destination for the Czech defence manufacturers. The State of Tamil Nadu is a diversified industrial base with strong fundamentals, well-educated and skilled population. The State is a leader and a pioneer in a number of crucial industrial sectors such as Textiles, Leather, Automobiles & Auto Components, IT & Healthcare. Tamil Nadu has the largest number of factories and largest employment in Industry amongst all the States in India.
The potentialities of defence ties with Czech Republic need no elaboration. Most of Indian airports use radars originating from the Czech Republic. The Czech's has capacity to design and produce aircraft of different types, including supersonics. So Czech defence manufacturers can further tap into India's burgeoning arms market and be a part of the defence corridor in the State.
Even as it aims to increase the quantum of local defence production, India has also acknowledged that for the foreseeable future, high-technology arms import will continue to meet the current operational requirements of its military.
In conclusion, Mr. Arun mentioned that in the midst of the pandemic and medical emergencies, we are thankful to the Czech Republic for their contribution in helping us check the dreaded covid infection. Dr. Tomáš Cihlář, Czech biochemist who was the pioneer in the development of the lifesaving drug, Remdesivir. Also mentioned of being hopeful to expand the presence of Czech products and services in Tamil Nadu in the days to come, expanding on Aerospace & Defence as well.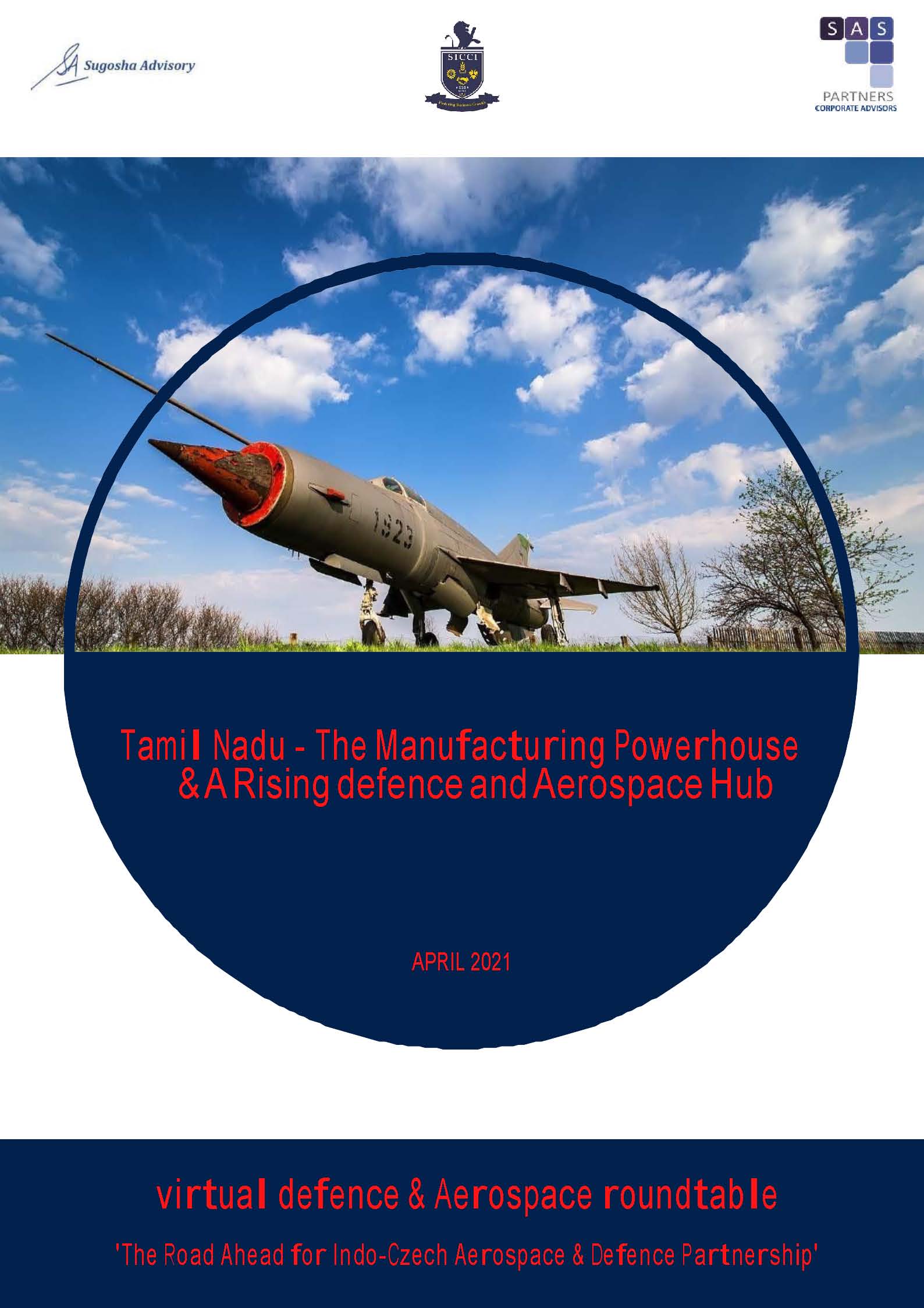 Mr. Ar Rm Arun released the 1st Knowledge Report of the day titled "Tamil Nadu - The Manufacturing Powerhouse & a Rising Defence & Aerospace Hub".
This Knowledge Report is put together with SICCI's knowledge Partners SAS Partners & Sugosha Advisory which builds on the report constructed taking forward on Navy, Air Force and several other developments taken place. In Dec 2020, a Knowledge Report was released with specific focus on Indian Navy and siminlarly in Feb 2021 with specific focus on Indian Air Force.
Mr. Iqbaljeet Singh Bains, Investment Specialist, Invest India spoke about the macro-economic overview of India, how the success of Make in India campaign has enabled the A&D, Domestic Aerospace & Defence Manufacturing ecosystem in India. He conveyed that about 25 focus Sectors within Make in India the combined market opportunity is expected to be almost $5T by 2025. India is the current top destination for Investors, FDI into India rose by 13%, whereas the Global FDI fell by 42% as per the percentage Growth rate of FDI from 2019 to 2020.
India has its increasing level of self-reliance in Defence production. All Naval Ships & Submarines are built in India, 75% of the total acquisition orders of the Indian Army are with Indian Firms. The two Defence Industrial Corridors : Tamil Nadu & Uttar Pradesh are expected to be leveraging with existing Ordnance Factories and private manufacturers in the region.
Defence Startups - contracts extended to 33 innovators, grant of $5.4M sanctioned. IDEX (Innovations for Defence Excellence) is an ecosystem that fosters Innovation and development in the A&D Sector by engaging diverse stakeholders and providing them with funding/other support to carry out R&D development.
While we map the A&D manufacturing ecosystem, 41 Ordnance Factories & 9 Defence Public Sector Undertakings, combined output around $9B. A&D Manufacturing includes - Land Systems : Missile Systems, Artillery Systems, Aerial Platforms : Fixed Wing & Rotary wing platforms ; Naval Manufacturing - Key Capabilities & Strengths.
Col KV Kuber, Director - Aerospace & Defence, E&Y India appreciated Mr. Arun for having nicely started about cautioning all to be safe during the highly increasing Pandemic times. He also mentioned about doing Pranayam during the Bramhamuhurtha between 3am & 5am.
Mr. Kuber spoke about the Opportunity Radar – Interpretation of Policy and Bilateral Business opportunities. He informed that the Czech Republic maintains comparatively large defence industrial sector with successful operations of long standing defence companies, an advanced expertise in areas such as Radars, Technologies & Aviation.
While speaking about S Band, K Band, Ka, Ku Band he had mentioned that beyond S band, there is real requirement of technology in India, as since the Czech had gone way ahead in Radar Technology.
Aerospace Industries Aircraft, Guided Missiles, Space Vehicles, Aircraft Engines & parts, CZ has high quality innnovative aerospace sector thru R&D programs and investments over the years. Defence strength have increased 13% annually 2017, 1.4% GDP by 2021 and also conveyed about the announced plan to reach 2% by 2024. TATRA Trucks exports, Excaliber Army focusing on maintenance & repairs support.
He spoke about the various opportunities in General Dynamics of Armoured vehicle program, lite tank available in Chennai is the major industrial hub for the Heavy Vehicles & Tanks, Rifles & small Arms, Sniper Rifles, Amenitions 3 to 5 Billion USD worth of opportunity. Period of 10yrs, assured by from the Indian Army and plenty of opportunity for Export in the Indian Ocean Region which would also be cheapest among the world.
The Brown, Defence Industrial corridor in Tamil Nadu in Hosur, Trichy, Madurai, Coimbatore, Sulur will be best opportunities for the Czech Companies to participate. FDI Policy has been well relaxed and synergised, it can come with 74% & 49% investment plans in most of the programs like Defence Acquisition Procedures, Maintenance, Repair & Overhaul, Spares, Radar. The technology demand is going to be severe & require good collaboration from the Czech Companies.
Dr. K.P. Karthikeyan, IAS – Executive Director, TIDCO informed that the Czech Republic has been Europe's flourishing economy, it has been Export oriented social market Economy based on Services, Manufacturing & Technology. TN has been economic, education & industrial powerhouse of India in multiple domains with focus on Human Capital and Social Welfare. TN being an Automobile Hub for India and aspire to be the Hub for A&D Design, Development and Manufacturing creating end-to-end system for A&D sector in TN.
Setting-up of TATRA plant in TN to supply trucks to Indian Army marked the 1st Czech-TN liason in A&D domain.
India's A&D market is poised for aggressive growth provided by the recent policy reforms. TN is 2nd largest economy in the country with the strong Manufacturing base, growing consistantly at 8% over the past 5 yrs. TN is among the most attractive Investment destinations for its Strategic locations, condusive business environment, entrepreneurial mindset, skilled work force, excellent logistical connectivity, state of the art infrastructure and proactive governance. TN is 1st in good governance index as assessed by GoI. Emerged as Country's top investment destination, in the 1st Qtr of 2021-22 accounting 18.6% of investments flown into this part of Country.
Defence Industrial corridor at five nodes Chennai, Hosur, Salem, Coimbatore & Trichy emerge as Aerospace & Defence manufacturing hub. TN's strengths in Automobiles, Electronics, Heavy Engineering, precision manufacturing and digital technology will help the State to leverage the existing supplier base to cater to the needs of Defence majors.
Subsequently there has been host of initiatives to support the Industry, the A&D domain unlike than other reset of domains is characterised by high technology, low volumes & high quality and long development gestation periods. These have been taken into consideration by the Governments, while deciding the nature of support to be provided to the Industry.
We as a state want to establish common manufacturing & testing facilities in collaboration with the Private Industry for the benefit of MSMEs to undertake Jobs & services related to A&D Sector. We also would like to provide additional fiscal incentives to Industries investing into the TN Defence Industrial Corridor. Also would like to support R&D Initiatives of Private Industry by the way of funding the developmental & other costs especially thru initiatives like Centre of Excellence for Emerging Technologies. Skill Development thru introduction of courses specifically catering to the specialised needs of the A&D Industries Sector.
Invite & incentiwise anchor units A&D Sector to set-up their plants in TN. Is the 1st State in the Country to come out with the A&Defence Industrial Policy in 2019 and currently in an advanced stage in revising the Policy to make it more industry friendly and expected to be released in the near future. Revised Policy which is to be annual has attractive features to address the requirements of the A&D Industry. Key infrastructual intervension planned by the government of TN over the next 10yrs include setting up Aerospace & Defence Park's in all the 5 nodes, almost lands has been identified.
Aerospace Park near Sriperumbudur is already operational. Also developing advanced computing and design engineering centre to support A&D Design & Engineering needs. Also setting up plug n play manufacturing complex at Aerospace Park, Sriperumbudur.
Setting-up of common facility centre at each of the nodes has been a priority, this will help the MSMEs Sector in the region to become the better part of A&D supply chain. Also encouraging consortia based approach for Industry to transform themselves into Military Industrial Complexes. We are investing in equity of promising A&D Companies operating from the State and also supporting A&D Start-ups financially in the quest to grow into Industrial giants.
Credentials of L410 Aeroplane to operate at low cost, high safety & in difficult environment have been proven worldwide. Made in India version of Czech L410 aeroplane flying across various feeder routes in the Global aviation, with such filteration & commute airplanes do foresee growth of rugged survilance Radar equipments across many Airfields marked with Made in India probably with the brand of Czech Radar System.
Czech MRO majors could also operate in collaboration with TN Partners providing low cost, high quality maintenance services to the global Airplane fleet.
H.E. Mr. Milan Hovorka, Ambassador of the Czech Republic in India conveyed about having excited to the ongoing discussion, would like to appreciate each & every one who had taken time to participate in this Webinar. Talking about Defence, can develop cooperation between trusted partners between Czechia & India. Vibrant presence of both the countries, willingness to do more as being in very important situation having number of Companies have already proved their capacity to deliver in India. Local Arm forces to their technology, CZ, EVS, Omnipol.
Both concept of establishing Defence Corridor is unique opportunity for the Czech Companies to understand the better objectives to see over the possibilities and to take appropriate decisions to bring in their knowledge and competence closer to the potential partners. Armed forces which India has widely opened the Sector which could also be opened for private businesses.
The Czech Embassy haven't missed any Aerospace & Defence Expos or Delegations taken place in India, especially that had taken place earlier - Wings India 2020 in Mar 2020 at Hyderabad and Aero India in Feb 2021 at Bengaluru.
Mr. Ar Rm Arun released the 2nd Knowledge Report of the day titled "India & Czech Republic - The Way Forward".
This Knowledge Report is put together with SICCI's knowledge Partner SAS Partners. It talks about the India & Czech Republic partnership and the way forward. Also covers A&D and Heavy Engineering sectors, about the potentials available in TN and what it offers to the Czech Companies.
During the Webinar, Czech Companies presented about their products and interest to collaborate with the Indian Companies.
Free Horizons : Produces Autonomous UAVs and Software Technology company which mainly produces Drones.
Techniserv : Fundamental Specialisation in Telecommunication & Transmission Systems, Radiomonitoring Systems, Informaiton Technology, Data Systems & Networks, Electromagnetic Shielding, Security Systems, Low current and Power Electrical Engineering, SW Development.
Ministry of Defence, Air Navigation Services, Airports & Telecommunication Office are the main Customers. ASMKS – Automated System for Radio Spectrum Monitoring like Fixed remote control Monitoring Stations and Transportable Monitoring Stations on Trailor, monitoring vehicles. Also involved in reconstruction of Radar Systems and National Integrated Air Traffic Control Centre. Electromagnetic Shielding Chambers.
Spaceknow : Transforming data from Space into Actionable intelligence.
Satellite imagnery data analytics provider, help Clients gain actionable intelligence by harnessing the power of real data which is being done thru artificial intelligence powered analytics, ultra largescale planetary analysis, extreme object detection accuracy, near-real time data.
Unique Capabilities in three domains : Economic Insights - Hedge Funds, Financial Institutions, Governments, Large Corporations ; Defence & Intelligence - Military Interlligence, Intelligence Agencies, Security Organisations ; SpaceKnow Analytics - Governements, Private Companies in Construction, Oil & Gas, Mining Industries.
STV Group : STV Stands for Stability, Tradition & Vision. Major focus is towards Maintenance & Repairs of Military Equipments, especially Heavy Vehicles. Produces large caliber amunitions, Small amunitions, bullet proof products - vest & helmets, Medium calibers, granites. Also involves in utilisation of not used amunitions.
Have been active in cooperation to India, registered with Ministry of Defence, India and delivered Military equipment for MoD, also buying parts from India for the Military Tanks. Would also like to extent cooperation to India for engineer army explosives and civil explosives.
T-CZ : Radar and Radio Systems delivering all over the World. Research & Development and Manufacturing, Delivery & Product Support for Radar Systems and Radio Communication Systems. For the Precision Approach Radar (PAR) Systems, we have already signed contract with one of the Partner in India. Also open to extend Business associations for the ADS-B Monitoring Systems.
Panel Discussion was moderated by Mr. S. Vijayakumar, Partner, SAS Partners towards fulfilling the Czech-TN Aerospace & Defence potentials. He appreciated about the active interest of the Czech Embassy towards developing the bilateral industry growth in Tamil Nadu.
Mr. Jakub Jaros, Economic & Commercial Counsellor, Czech Embassy, New Delhi presented about Czechia's basic economic data. Also mentioned that Czechia has been currently ranked at 41 out of 190 Coutries towards ease of doing business in the Czech Republic. The Czechia has highly developed Business and investment environment, broad range of Government incentives and support for FDI, establishing a Company is very easy and fast, high level of IPR and investor protection, highly qualified workforce, comparably low wages & salaries, developed transport and logistics infrastructure, also a gateway to Europe. Member of EU & NATO, political stability and predictability for the Czech businesses and more over great environment for living.
Around 80% of the Czech's produce are being exported abroad, around 25-30 investors from Czechia to India, most of them have local branch/production facilities in the country. Around 15 investors from India to Czechia.
Czech Aviation Industries, small passenger Airplanes L410, 19 seater operating in Nepal & Bangladesh, also lighter combat fighter is used for training. Also involved in UAVs & Drone Technologies.
Czech Radar companies are very active and successful in India, Eldis Radar System from the Czechia covers upto 90% of Indian Airspace.
While speaking about Defence, understand that about thousands of Tatra Trucks are running effectively in the Indian Armed Forces. Also Firearms, guns, pistols & ammunition products are largely being used by the Indian Defence.
Mr. Petr Motyl, PBS Group conveyed about delivering in India for around 50 yrs since 1955. PBS India based in Bengaluru delivering Engines for the Aircrafts, UAV's & Helicopters. Indian Airforce is one of the Customers.
Also produce cryogenic products which are also being used for the Space programs. The Company is based in Bengaluru and also operate in New Delhi to support the Indian Air Force Head Quarter. Also working with 3BRD in Chandigarh repair centres for all Russian Indian Helicoptors.
PBS India is ready to invest & very much interested to work with India. Also see India as a big potential opportunity like a gateway for next activities for the South-East Asia towards reexport.
Wg Cdr P. Madhusadhanan, Aerospace & Defence Consultant, TIDCO infomred about the process of providing fiscal incentive to Industries who would be interested to invest in the Industrial Corridor. Lot of incentives have been given as per the 2019 Industry Policy and as per the current Industry Policy which is to be released in the near future will have more incentivised.
Today's start-ups, R&D's are going to bloom into larger companies in the future, TIDCO are going to take part in the development & protyping cost. Also informed that TIDCO as the Nodel agency for implementing the Defence Industrial corridor Sector are ready to invest into State development.
Invited the Czech Companies to invest in the Defence Corridor nodes as they can produce & supply to the Indian and the global market, primary & secondary bases of the Czech Companies could be set-up.
Mr. N. Ramachandran, MD - Mels Systems spoke about their around 30yrs of association towards supporting the Indian Defence in terms of various services extended. Working on the Air base & communications systems in Cochin. About to start building a high-end tester which will be used for Defence Radar System, is to indigenized and manufactured in Chennai.
While concluding the Panel Discussion, it was suggested to prepare a detailed report by the SICCI Secretariat & SAS Partners comprising all present Policies and the ease of doing business in Tamil Nadu. This could be shared to the Czech Embassy and as well as to the major stakeholders of other Countries who would be interested to extend their Businesses in Tamil Nadu, India.
Nearly 150 participants attended this webinar including the high-profile dignitaries, Companies from the Aerospace & Defence Sectors. Mr. Vinod Solomon, Secretary-SICCI had effectively coordinated with the representatives of Government of Tamil Nadu and the various industries. Mr. A. D. Johnson Christy of the Honorary Consulate of the Czech Republic in Chennai, had well supported in coordinating with the Czech Embassy, New Delhi in organising this successful Webinar.