The 113th Annual General Meeting of the Southern India Chamber of Commerce and Industry (SICCI) was held starting 10am on Jul 7, 2023, at Hyatt Regency, Teynampet, Chennai. Mr. Ar Rm Arun was unanimously re-elected as President of the Chamber for a 4th consecutive term. Mr. Ar Rm Arun, is Chairman of the Valingro Group and is the Honorary Consul of the Czech Republic in Chennai.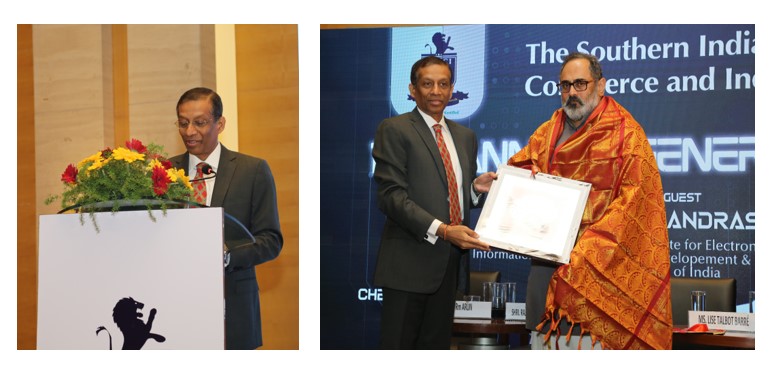 The Chief Guest for SICCI's 113th AGM was Mr. Rajeev Chandrashekhar Hon'ble Minister of State for Electronics & IT and Skill Development & Entrepreneurship, Government of India. Guest of Honor was Her Excellency Ms. Lise Talbot Barre, Consul General of France.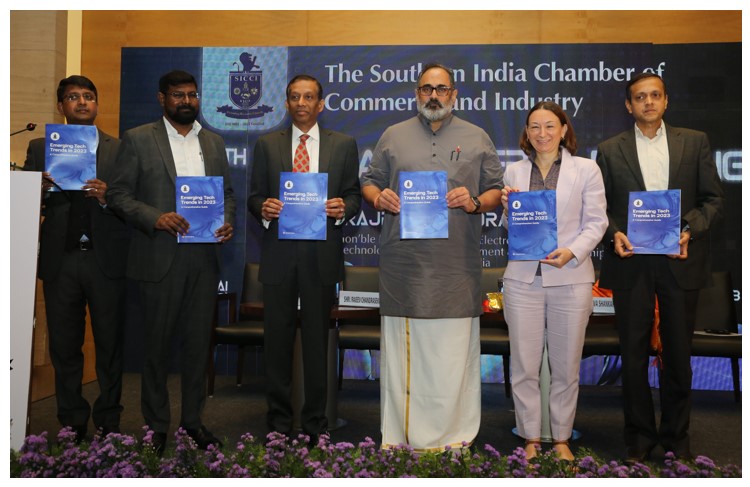 Welcoming the Guests & Audience, Mr. Arun presented India's Economic status and in this context, spoke about Tamil Nadu's attractive economy with plans to reach the $1T mark by 2030. Mr. Arun shared 7 specific recommendations for the State to achieve its economy target. Speak about SICCI, Mr. Arun shared SICCI's growth over the last 3-years across multiple tangible & strategic parameters. Mr. Arun also shared about SICCI's next 100-year Visioning planning, foray to establish a Centre for Policy Research as well as opening new Offices to further its industry & economy propelling efforts. Mr. Arun requested the Hon'ble Minister's support in having STPI work with SICCI for setting up an EV CoE and having Meity work with SICCI for the India Innovation Week. The Hon'be Minister immediately agreed to Mr. Arun's 2 suggestions and said that he will ensure the required support. The full text of Mr. Arun's speech is available by clicking here
SICCI presented awards to the Best performance Students.The AGM was attended by over 250 people compromising SICCI Past-Presidents & Members, Government, Industry, Diplomats & Society.
News Articles :
a. The Hindu, Business line : AI taking away jobs? "bakwas," quips Rajeev Chandrasekhar
b. The Hindu Paper : T.N law regulating online games makes no sense
c. The Hindu : Mr.Arun unanimously re-elected SICCI President
d. The Hindu : T.N law regulating online games makes no sense
e. The Hindu, Business line : AI taking away jobs? "bakwas," quips Rajeev Chandrasekhar
f. Thinathandhi : India is growing exponentially in terms of digital technology
g. News today : SICCI holds AGM in city
h. Inc42 Media : Clouds Will Soon Be Powered By Made-In-India Servers
i. Newsdrum : India in exciting period in technology
j. Kerala express : It is absurd that artificial intelligence will take over jobs - Minister