The Honorary Consul of The Czech Republic in Chennai and President of SICCI (Southern India Chamber of Commerce & Industry), Mr. Ar Rm Arun enabled the participation of the Czech Republic at a CXO Conclave themed Reimaging, Redefining, Reclaiming Growth in Puducherry on Saturday Apr 23, 2022.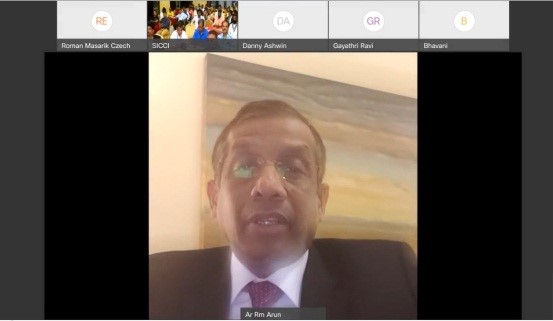 Delivering the Welcome Address, Mr. Ar Rm Arun mentioned about SICCI completing 111 years of service to Industry, Government & Society. In the recent past, while SICCI has been building on Robustness, Vibrancy & Growth under Mr. Arun's Presidency, SICCI has also been formulating the Vision & the way forward for the 2nd 100 years.
Mr. Arun briefed about SICCI and the Czech Republic been working very closely, focusing on several areas of importance. This included Aerospace & Defence, Engineering and Higher Education. Mr. Arun also addressed about Tourism & Culture being other areas of engagement that can be progressed upon between Puducherry & the Czech Republic.
Mr. Roman Masarik, Chargé d'affaires a.i. & Acting Head of Mission of the Embassy of the Czech Republic in India shared about the long standing connect between the Czech Republic & Puducherry. This has been detailed in the following Link. Mr. Roman also invited Citizens from Puducherry to visit the Czech Republic.
The Hon'ble Lieutenant Governor of Puducherry Mrs.Tamilisai Soundararajan encouraged investors to explore the possibilities in education, spirituality & tourism in Puducherry. The Hon'ble Speaker of the Puducherry Assembly Mr. R. Selvam, the Hon'ble Minister for Civil Supplies of the Government of Puducherry Mr. A.K. Sai J. Saravanakumar and Ms. Lise Talbot Barre, Consul General of France to Puducherry also addressed the gathering.
Other Speakers included Mr. Gopi Koteesswaran (Chair, SICCI EIS Committee), Mr. M.V. Subramanian (Chair, SICCI Technology Committee), Mr. Naveen Prakash (Director, Global Logistics Solutions India Pvt Ltd) and Mr. Vivien Massot (MD, TAC Economics). The Event had over 400 participants along with Conference, Expo, Startup Pitchfest, etc.
News Articles :
a. The Times of India : Conclave to reclaim growth in Puducherry outlines investment opportunities
b. The Times of India : Puducherry seeks to attract foreign investments
c. The Times of India :
d. The Economic Times:
Czech Republic
Chennai, India