CHENNAI: Tamil Nadu has emerged as a leading tourist destination by topping the country in tourist arrivals in 2020, as per the India Tourism Statistics 2021 published by the Union ministry of tourism.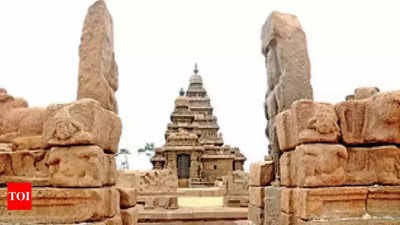 Mamallapuram
The state has 22.9% share of total tourist visits in 2020 and has been ranked number one in domestic tourist visits in 2020 with over 140 million visitors. Concerning foreign tourist arrivals, the state ranked second, marginally behind Maharashtra
TN received 1.23 million and Maharashtra received 1.62 million visitors.
The data showed that Bangladesh, the United States and the United Kingdom were the top source markets, cumulatively contributing to 45% of foreign tourist arrivals in India.
The Chennai International Airport was the gateway for 6.6% of the foreign tourists. Out of all the foreign tourists, 52% from Sri Lanka, 22.5% from Singapore, 20.4% from Malaysia, 18.8% from France and 16.8% from South Korea opted for Chennai as their preferred port of entry.
Tamil Nadu is among the top five states in terms of the total number of rooms in classified hotels depicting the strength of tourism infrastructure in the state.
Furthermore, the group of monuments at Mamallapuram, one of the five Unesco World Heritage Sites in the state, ranked as the second most popular centrally protected ticketed ASI monument among domestic tourists and fifth among foreign tourists.
Other popular ASI monuments in the state frequented by tourists include Fort Museum, Fort Vattakottai, Gingee Fort and Rock Cut Jain Temple at Sittannavasal, said a press release from the state government.
The foreign tourist arrivals were boosted by efforts by the ministry of tourism and Indian embassies abroad. To aid the post-pandemic revival of foreign tourist arrivals, the Government of India appointed tourism officers in 20 Indian missions at Australia, Canada, China, France, Germany, Italy, Japan, Malaysia, Myanmar, Oman, Portugal, Russia, Singapore, South Korea, Spain, Sri Lanka, Thailand, Netherlands, the UK, and the US that contribute to footfall.
Through active collaboration with these Indian missions, Tamil Nadu has been promoting tourist destinations in the state at the international level.
Various key initiatives have been taken by the state government including a destination development scheme aimed at holistic development of destinations to enhance the visitor experience by which lesser known destinations like Kolli Hills, Jawadhu Hills and Yelagiri are being developed as adventure and eco-camping sites.
In the past five years, the state has been consistently attracting high tourist volumes, both in the domestic and international segments
Source : Times of India
Czech Republic
Chennai, India